Becoming a Neonatal Nurse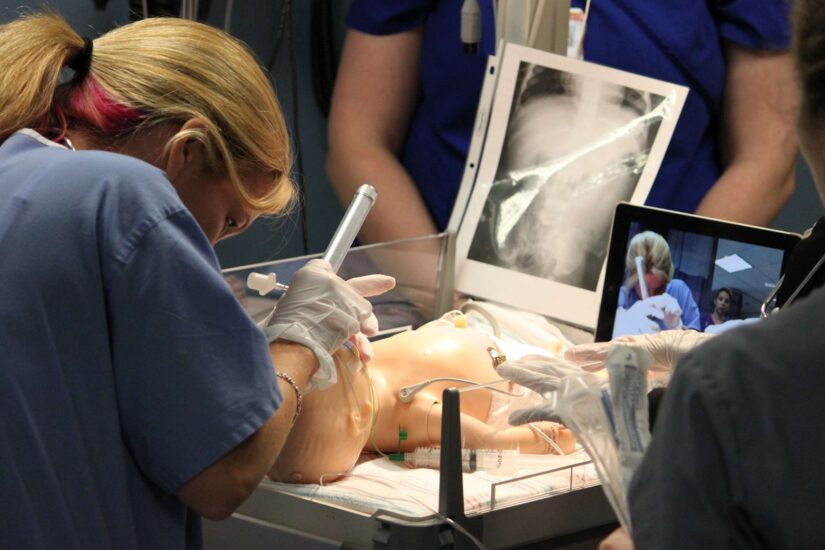 If you are a practicing RN and are looking to specialize and further your career, or you are just starting out and considering becoming a nurse, a neonatal nursing career can be an incredibly challenging yet rewarding option. There are many different areas of nursing, and neonatal nursing is just one of them. If you enjoy working with babies and families, neonatal nursing may be a good option for you. Here are a couple of pieces of basic information about neonatal nursing, what it can involve, and how you might become one.
What is a neonatal nurse?
Neonatal nurses care for infants during the first two years of their lives. 'Neo' means new, and 'natal' refers to birth or origins. Neonatal nursing is just one of the many sub-categories of nursing, and neonatal nurses are a vital part of the neonatal care team.
What do they do?
Neonatal nurses provide care to newborn infants who may be suffering from a wide range of illnesses or issues. These can include being born premature, certain bodily functions not properly developing, drug dependency, or cardiac defects. Typically, these infants will be cared for by neonatal staff until they leave the hospital, and sometimes for up to 2 years. There are four different levels of neonatal nursing as classified by the American Academy of Pediatrics;
Level I – caring for healthy newborns
Level II – intermediate/special care for ill or premature newborns
Level III – working with newborns in the NICU who cannot be treated at any other level and require special technology such as feeding tubes to survive
Level IV – requires the same skills as Level III but working with the most critical and complex newborns
How to become a neonatal nurse
An online DNP program in neonatal nursing can help practicing RNs develop their knowledge and skills in order to prepare to lead nursing care for infants. DNP programs are Doctors of Nurse Practice programs and are one of the two Doctorate degrees in nursing that can be studied for in the USA. They can be completed at fantastic neonatal nurse practitioner schools such as Baylor University, who offer a neonatal nursing practitioner track as one of their many DNP programs. This neonatal DNP track specializes in high-risk neonates and their families.
DNP programs are aimed at practicing RNs who already have either a Bachelor's degree or a Master's degree in nursing. There are two course options depending on your existing level of education. A BSN to DNP program is for those who have a Bachelor's degree in nursing, and allows you to complete a Master's and a Doctorate in just over three years. An MSN to DNP is for those who already have a Master's degree and can be completed in two years. These courses do not require a GRE or GMAT, and are taught with a mixture of online learning, in-person teaching, and placements. Placements are very valuable, as not only do they allow you to put your knowledge into practice, but the site you are placed in may also be a prospective employer.
Online learning can also help you to build upon personal skills you may already have. Soft skills are non-technical skills that can help you stand out in the workplace. They include flexibility and adaptability, problem-solving, communication, time management, and motivation. As well as this, studying online can also help to reduce the costs that come with being a student. For example, at Baylor you are not required to sit a GRE or a GMAT, which saves you both time and money. If you're studying from home, you may not have to worry about rent and travel costs, as you do not have to travel to classes every day, or find somewhere to live near campus. BU aims to place you at sites that are within 125 miles of your home for your placements.
Is neonatal nursing for you?
As well as the technical knowledge and skills you will need to perform your job, there are many different traits and characteristics that you will need to pursue your career as a neonatal nurse. These can include:
Empathy- empathy is the ability to recognize and share the emotions of another person. When working in a nursing environment, it is important to be caring and empathetic to your patients and their loved ones.
Communication- you will need to communicate with a wide range of people effectively and efficiently. A neonatal nurse will need to speak with both doctors and medical professionals, as well as members of the public, so will need to adapt the way they communicate to match the situation.
Stability- emotional stability is very important as a neonatal nurse, as you will be dealing with emotional, high-stress situations. You need to be able to handle your own emotions in order to be able to focus and continue with your work.
Critical Thinking- being a neonatal nurse can be unpredictable, and no two days will be the same. Therefore, it is important to be adaptable and assess situations critically, thinking on your feet constantly.
Other pediatric nursing careers
There are plenty of different DNP program tracks that you can choose from, in order to develop your knowledge and specialize in a certain area. Other pediatric DNP tracks include:
Midwifery- midwives care for women during all stages of childbirth, from pregnancy to the postpartum period. They also provide care to women without children, providing services such as family planning, reproductive health, and gynecology.
Pediatrics- this area of nursing deals with children and young adults, and there are two tracks you can study. One is a primary pediatric track, and the other is a primary/acute track.
Family- primary care is provided across all ages, to individuals, families, and communities.
Being a nurse is a very difficult yet rewarding career, and choosing to specialize in a certain area can help you grow and help others. There are many requirements and different qualifications that you may need to have in order to progress, so it is important to do your research to make sure you are prepared and studying the right course.