The Truth About Teen Stress Is About To Be Revealed.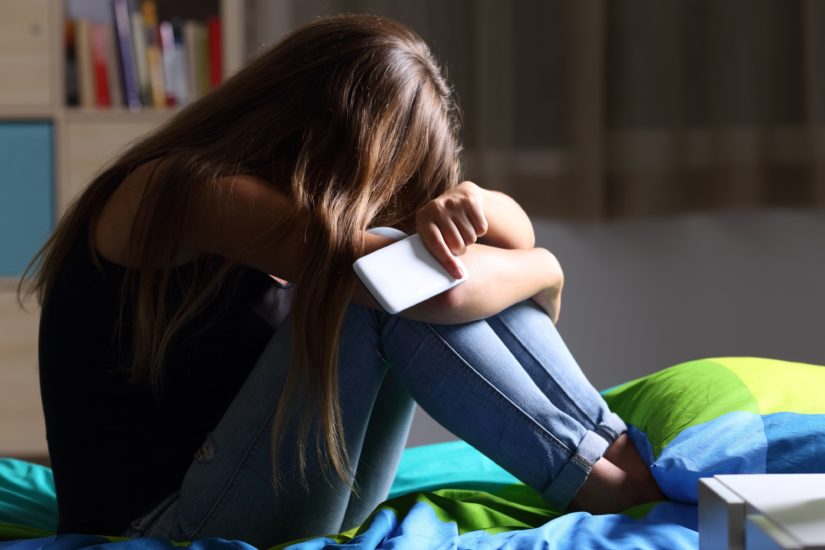 The current quarantine has shaken up families across the globe, but everyone experiences it differently. One group in particular has a unique outlook: The children of essential workers who are at higher risk of infection, while being stuck at home without their parents.
Adolescents in this position grapple with a unique reality: they have the maturity to understand the gravity of the pandemic, but they have less power to help. Many now find themselves balancing schoolwork, typical teen stress, and new domestic responsibilities while trying to instill optimism in their younger siblings. Some teens dealing with this adaptation are Olivia andMagaly: second-year high school students. Olivia's brother worksfor Costco while Magaly'sdad works as a truck driver.
"It hasn't really affected me physically, but it definitely has affected me emotionally," Olivia responded when asked how she's feeling about her brother'sservice as an essential worker. "I'm not scared or anything for his health because he's young and healthy and already beat COVID-19 but knowing that the pandemic has kept him from seeing his 11-month old child for a long amount of time is tough. It's just hard watching him be so sad, because obviously if he didn't have to work, he would, but he needs money. It's really hard to watch."
"Having my father serve as an essential worker has affected my family and I quite a bit.," Magaly remarked, "To us, we worry about his health because he is more prone to get the virus since he's a smoker. And we do not see him that often anymore:during this pandemic, his role is really important because he brings vegetables and fruits from California and delivers produce grown in Washington. His role is also important because he is only provider for our family."
Remote learning also poses challenges when adolescent students share space and electronic devices with younger siblings: "At first, it was hard to adjust to remote learning because I have three more siblings, who also take online classes too," Magaly noted, "Sometimes it's hard to have a quiet house because we might all have a class at the same time. It was especially tough when my younger siblings had to share the same laptop for their classes and to work on their assignments, not to mention the now-slower WIFI. Eventually, everything got better when my mom was able to borrow iPads for my younger siblings."
"I actually quite like remote learning," Olivia offered: "I've gotten myself down to a good routine and I feel so productive, and I take naps every day, which is really nice, and there's obviously things I don't like, but I'm also a really introverted person, so I like remote learning and wouldn't be too upset if it continued through the fall."
With Olivia's brother living hours away on the West side of Washington, she and her family experienced different levels of closeness to him. "I feel closer to him because I've been reaching out more, but he's been more distantin some ways. Like yesterday was my mom's birthday, and he texted her "happy birthday," but when Mom tried to call him knowing he wasn't working that day and he didn't pick up—that was hard for her."
Part of being an adolescent is having the maturity to understand how things affect our parents, and Olivia has grown more cognizant of this since social distancing measures have been in place. "I can tell that my brother's physical and emotional distance is taking a toll on my mom. There'll be days when she comes home and she's just not herself and I'll try to talk to her, but of course she doesn't want to bring it up or go into detail, but I'll know."
Alternatively, Magaly's family has grown closer together since the pandemic struck: "We have taken the responsibility of taken better care of ourselves, so we do not get the virus. At the same time, my father takes precautions when he driving so that he does not get the virus either. All of us have changed, because we have learned to appreciate life and to enjoy every single you can spend with your loved ones."
While social distancing has affected each of these adolescents in different ways, Magaly reflected on the blessings she has grown more aware of since the pandemic struck. "I would have never in my life thought I would be one of the people going through a serious pandemic. It has changed many people lives. And finally, at first, I did not like remote learning at all, but it taught to be more thankful about appreciating all my teachers for their hard work to be able to still teach us. I also learned how to be more responsible about doing my homework done in time, making sure that I do not having any missing assignments, scheduling all my zoom classes on my calendar and attending them. Remote learning has helped me focus on myself and future goals."
Author Bio:
Andy Earle is a researcher who studies parent-teen communication and adolescent risk behaviors. He is the co-founder of talkingtoteens.com, ghostwriter at WriteItGreat.com, and host of the Talking to Teens podcast, a free weekly talk show for parents of teenagers.